Hello, I'm happy everyday.I brought a cool and beautiful summer dress from Parkland, famous for its fashion.It is important in itself because it came out in collaboration with writer Lee Kun-hee, who is widely known about the aesthetics of hanji, but I would like to inform you that it is lovely and comfortable with a long dress with a fluttering chiffon.Thanks to its knee-length, it is easy to wear and has a special design that incorporates nature.We introduce a high-end summer dress that was created as an art collaboration and is meaningful and has a lovely fit to wear.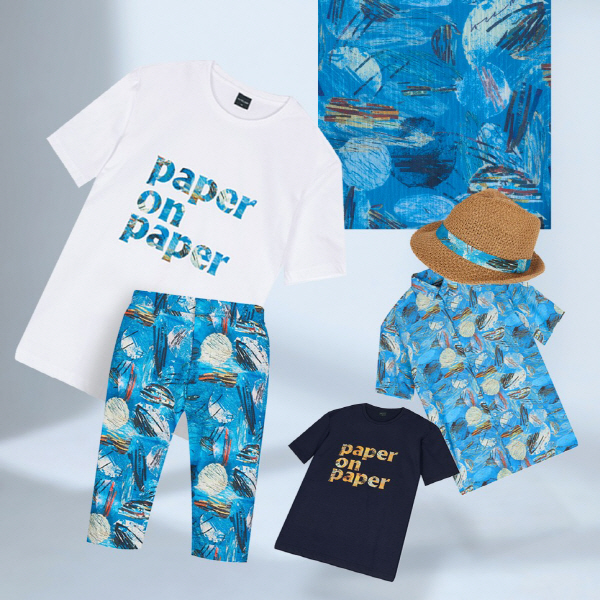 One Piece is one of the collaboration lines between Parkland and Lee Kun-hee, and the code RJO23292M gives you a clear view of bright blue from afar.I liked the fact that it is a long dress that can be worn easily at any time and the elegant fit that falls off tightly, so I prepared for summer with this.Above all, Parkland was believed to be a fashion brand that was nature-friendly and focused on creating a relaxing space in the mind.
In addition, I couldn't overlook the art collaboration with writer Lee Kun-hee, who steadily studies Korean paper and conveys aesthetics.Especially this time, I felt even more special because it is a summer dress that expresses the natural quality of paper.There are shirts, hats, shorts and blouses in the collaboration line, so if you are interested, please choose according to your preference.
You should pay attention to the design made by the writer himself, but these pictures, which look irregular, represent newspaper sculptures with sprouts and grass leaves.When the blue color representing nature was drawn on the base, it appeared as a blue dress.Even the tag was carefully made, although it is small, I can trust the quality of the clothes naturally because they are carefully prepared.This year's summer dress released in Parkland's art collaboration with writer Lee Kun-hee is highlighted by V-neck.The lace connected to the neckline looks cooler through the hole, giving it a luxurious feel.It's basically high-quality clothes with no oars.The sleeves are also worth noting, but the rich flare design, which gently hides the arms, naturally covers the upper arms.Even a fluttering skirt seemed to be looking at the lovely chiffon dress standard.It is a long dress that is easy to wear from now until the hot summer because it is light and breathable.The zipper and the buckle were also attached to enhance the dignity of the clothes, but I think it's more meaningful because only you know it, not others.The dress itself is beautiful, and it's even prettier.She shines brightly when exposed to natural light, but the luxurious material and wonderful design shine.I'm 160cm tall and I'm wearing a dress size 55.Please look at the length slightly above the knee.The width is loose, but if you wear 44-55, you can wear it easily enough.We also have a larger size, so you can get it if you like.I think I'm going out a lot for vacation soon, but it's a perfect dress to wear then.It is convenient because it can be worn easily and used for travel and gatherings.I recently went to the wedding hall wearing a Parkland dress.No matter what bag and shoes you put on, it went well together and was beautiful.Thanks to the appropriate length and fit, I felt like my body shape was corrected, and it was a day when I felt full myself.I wear it when I have a small gathering.It is a blue dress that is light and comfortable to wear, and is easy to use thanks to its length and beautiful color.We are spending precious days wearing Parkland's summer dress, which is meaningful in art collaboration, but please note that the fluttering chiffon sleeves and skirts give you a cool feeling, and you can buy it not only at stores but also at online malls.I hope everyone has a happy day!
Parkland Parkland has 349 stores nationwide. Parkland Members Card Parkland Membership. View Parkland products online at the Parkland Online Shopping Mall. We will process your inquiry about the usage information of the counseling room quickly and quickly.www.parkland.co.krParkland Parkland has 349 stores nationwide. Parkland Members Card Parkland Membership. View Parkland products online at the Parkland Online Shopping Mall. We will process your inquiry about the usage information of the counseling room quickly and quickly.www.parkland.co.krNext 1/5 TREND キーワード Next Previouseshop.parkland.co.krNext 1/5 TREND キーワード Next Previouseshop.parkland.co.krNext 1/5 TREND キーワード Next Previouseshop.parkland.co.kr